This week's episode opens with our beloved Nucky visiting the Sunshine State. His old buddy Bill wants him to get in on a land deal that he's involved in. Hopefully Nucky will get a little sun while he's down there because he's looking a bit pale lately.
I can't blame Nucky for being a bit skeptical of the whole thing. His instincts are correct. The whole reason his friend Bill wants him involved is because he owes the guy who's heading the deal (Tucker) a lot of money. Nucky wants no part of it.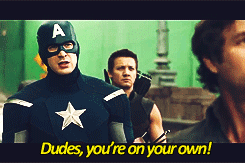 Nucky has a change of heart just before leaving for Jersey but I'm sure it wouldn't have mattered anyway. Bill ends up killing Tucker with a machete so he'll be calling Nucky soon to get him out of the mess he's about to be in. Why are we spending time in Florida when we should be worried about where fire starting ass Teddy and his soda bread baking momma are?
Back in Harlem, Dr. Narcisse is getting his Marcus Garvey on and gets a visit from Arnold Rothstein & Owney Madden. Dr. Narcisse wants to get into get into the heroine business and, to do so, he has to go through Rothstein. The more we see of Dr. Narcisse, the more of a hypocrite he reveals himself to be. His disdain for race mixing runs so deep that he makes it a point of wiping his hand after Rothstein shakes it to signify the closing of their deal.
via
Tumblr
When Dr. Narcisse shows up to Chalky's club with Daughter Maitland on his arm, it's obvious why he asked Owney Madden to let her leave the Cotton Club for a week. Yes, the girl is beautiful and talented but she's there to distract Chalky.
Dr. Narcisse approaches Dunn with his plans to traffic heroin. Dr. Narcisse isn't one to get his hands dirty and he he sees Dunn as an easy target. If Dunn is dumb enough to fall for this mess, he will not survive Chalky's wrath.
Willie Thompson is really struggling with doing the right thing by staying in school and the allure of the gangster life led by his uncle and father. It's really not helping that he's experiencing peer pressure from some of his classmates. Willie decides to sneak some of the booze from one of Nucky's warehouses when Mickey tells him no.
Mickey lets him have a case after smacking him around for trying to steal but something tells me this won't end well when it gets back to Eli and Nucky. If his classmates don't stop picking at him, they will find out that Willie is a lot more like his ruthless uncle than he's let on.
I never thought that I would say this but I am actually happy that Gillian didn't OD last season.
Why? Because we wouldn't have the joy of watching the past come back to haunt her. Gillian thinks that she has hit the jackpot with Roy Phillips. She gets to play the roll of wife of an important businessman and be taken care of financially. It looks good on the surface but reminders of the past keep popping up at the most inopportune times. Their dinner companions just happen to be from the same town as Roger, the Jimmy look-alike that she murdered last season.
Of course Gillian plays stupid and says she's never heard of the place. Later, one of Roger's friends recognizes her and begins asking questions about his friend. Again, Gillian plays stupid.
Each time Gillian is confronted with the ghosts of her past, her instinct is to shoot up. I have a strong feeling that Gillian's demons will be the catalysts of her demise.
While Harrow is cleaning out his sister's garage, he gets surprise visit from Carl Billings. Billings is not pleased that Richard didn't carry out his plan to kill Billings' former business partner and he intends to make him pay.
Harrow ends up shanking Billings' partner and when Billings' tries to take out Harrow, Emma appears from the shadows to remove half of his head with a bullet from her shotgun.